Beltane Bath Tea: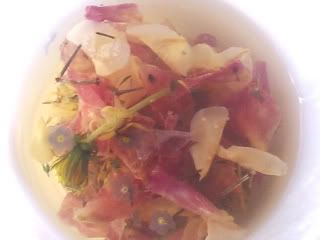 1 dandelion flower
1 part woodruff
1 part calendula petals
9 forget-me-not flowers
1 part rose
1 part cinquefoil
1 pint boiling water
Leave to infuse until the water goes cold, strain and add to your bath.
_____
Dandelion Biscuits:
I love to use and experiment with the free seasonal natural ingredients I find in my garden and in the wild. My latest offering is this recipe for dandelion biscuits which I made yesterday. They taste quite subtle and are really pretty, for a stronger taste use a stronger dandelion infusion :)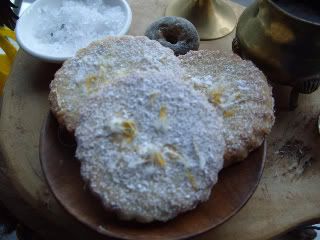 4oz butter
2oz caster sugar
6oz plain flour
2-3 tbsp dandelion petals
dandelion tea infusion
icing sugar and a few petals to decorate
***
Cream together the butter and sugar then mix in the flour and petals. Gently mix in small amounts of the infusion to bind and create a soft dough - do not overmix, the dough should be light and not very compact. Cover and chill for 15-30 mins then gently roll out and cut into shape. Bake on gas mark 6/200*C/400*F for 10 - 15 mins until golden in colour then leave to cool finally dust with icing sugar and a few dandelion petals to decorate.