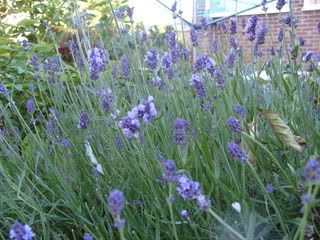 This is a list of my 10 favourite uses for lavender, both the flowers and oil. As i mentioned in my earlier post
No Room For Towels
I grow and use lavender
A LOT
and thought I would share some uses for this wonderful and versatile herb. If you want me to expand on anything just leave a comment and I'll post more information for you, otherwise I fear this post would get ridiculously long if I wrote a "How To" for each of my suggestions :)


In no particular order:


1. Sleep pillows. Well known for it's relaxing and mildly sedative properties it makes wonderful little pillows to smell at bedtime when your trying to drift off to sleep. You can also add hops to the stuffing as they work well with lavender and are thought to be good for combating insomnia.


2. Lavender Sachets. Fab for scenting draws, wardrobes and stored clothes as well as being a good deterrent for fabric moths who hate the stuff. It's also a good way of recycling scraps of fabric.


3. Cleaning Spray. This is a simple all purpose cleaning spray that I first saw on "How Clean Is Your House" a while ago, and I now use in place of my white vinegar recipe. Lavender is antibacterial so is really good for cleaning; 1 pint of warm water, 2 tbsp of bicarbonate of soda and 10 - 20 drops of lavender oil (depending on how strong you want it to smell), mix in a spray bottle and use.


4. Lavender water, made by infusing the dried herb in boiling water and leaving until cool, then straining and bottling. It is fab for healing minor cuts, grazes and burns, can be drunk hot or cold as a calming tea and remedy for all manor of ailments from digestive problems to colic, can be used as an antibacterial mouthwash, added to the bath water, used as a hair rinse, even added to your cooking. I keep mine in the fridge alongside my rosewater infusion as the coolness also makes for a good compress for headaches.


5. Lavender biscuits (much like my dandelion biscuit recipe found
here
) just substitute the dandelions and infusion for dried lavender flowers and lavender infusion.
6. Lavender Soap. Adding the oil to a melted soap base will utilize the properties of lavender for washing. If you want it to have exfoliating properties just add the flowers themselves as well.


7. Pressing the flowers as they dry for use in arts and crafts work well as they are substantial, do not fall apart and are not as delicate as a lot of other flowers. The single flowers dried also work well added to homemade paper and smell lovely too.


8. Incense. Burn the dried flowers alone for meditation or add to incenses for any number of outcomes. I always use lavender in my multi-purpose incense as well as a whole host of other recipes.


9. Lavender Salve. Fab for use, like the water, on minor cuts, grazes and burns, lumps and bumps when the kids fall over and great for preventing and helping to heal nappy rash. It's very cheap and simple to make, you heat, in a bowl over water, some petroleum jelly. Add the lavender flowers and gently infuse for a good 30 mins, strain the liquid and leave to cool in a little jar or pot. Once cooled use as needed.


10. Candles. If you make spell candles yourself at home like I do then the addition of oils and herbs into the wax not only means you don't need to annoint the candle itself and/or roll it in herbs but can become a powerful tool for the working at hand. If adding the dried herbs though be careful not to add too many as you wouldn't want them to catch fire and become a hazard.


Hopefully there is something there for everyone to try now that the lavender is in full bloom and ready for picking. If you are lucky enough to have access to some that you can pick don't forget to dry it too as it lasts well, keeps it's scent and the harvesting encourages new growth in the plant, so you may just get even more flowers right through to September.