It's finally that time again. I spent about 15 mins outside this morning harvesting my lavender and to look at the 'bush' you wouldn't know it. There is so much more outside, so hopefully I'll get another couple of good crops in the coming weeks when the newer flowers get ready to pick.
I absolutely love Lavender, it is probably my favourite herb because it is so versatile and can be used for so much, not only spells but cooking, cosmetics, medicines and cleaning too. I am lucky enough to live in a house that has a well established beautiful mass of it in the garden and it produces a wonderful crop every year.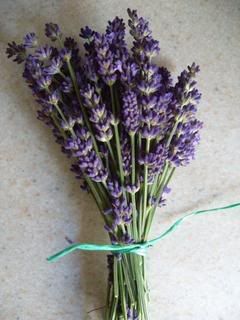 I pick and bunch the lavender up (today's lot made 8 large bunches) and hang it in my airing cupboard to dry along with all the rose petals I can spread out in there. It makes the cupboard smell gorgeous, unfortunately though there is no room for my towels which sort of get shoved to one side for a couple of months while all my herbs dry.
I'll try to remember later on to do a post with some of my favourite uses for dried lavender, because I really do use these beautiful, fragrant flowers for just about everything :)