Summer is finally here and nature is in bloom. It always cheers me to see all the gardens come alive (even though I dread the full heat of summer as it usually makes me feel nautious and brings on my migraines). On the way to pick Beth up from playgroup I saw about five elders in flower, in our garden the roses are opening and our lavender bush is begining to flower once again. It won't be long before my airing cupboard is full of drying herbs and flowers.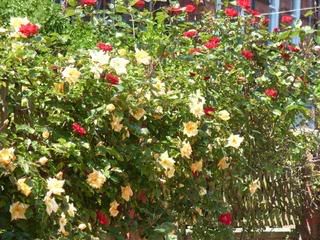 There is a fabulous rose garden round the corner from us in a public memorial park that I will try to get to and take some pics, they have roses there in just about every colour, it is really beautiful. The above pics are from our garden.
My salad veg seeds are growing well too, the young lettuce leaves are ready to start picking and have been added to sandwiches and salads galore at the moment, while the cucmber and tomato plants are steadily growing strong.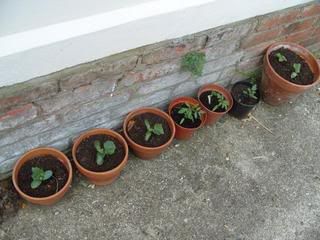 Happy summer to everyone, hope you are all blessed with good weather and cheer :)