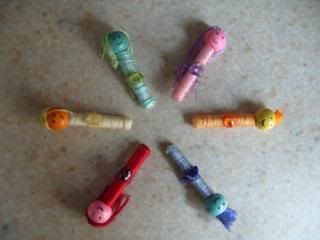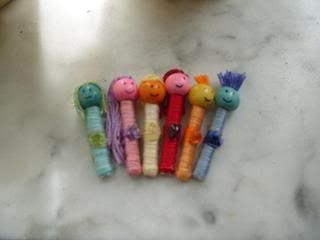 Anyone who follows me on Twitter may have read my tweet the other day about how I intended on making some worry dolls. Well these are my take on them and I'm pretty pleased with how they turned out. They are super simple, no arms or legs but are pretty sweet and quite small (the length of 1/2 a cocktail stick). As you can see I made 6 in different colours and each has a different gemstone chip attached to it's middle, from left to right they are peridot, amethyst, citrine, garnet, carnelian and sodalite.
I decided to make them to clear my mind, and the intricate work and fun I had doing it in itself helped to ease my worries, of which are plentiful at this current moment in time. My daughter also loves them and has been begging me to make her a set too, which I will do when I have the time. Plus I need to make a little pouch to keep them in.
Yesterday I went arts and crafts shopping, and among other things picked up the above reel of mini ivy leaves, which I thought would probably make some nice headresses/circlets. Hopefully I will experiment with it soon.
On a side note I want to wish everyone a Happy Summer Solstice (I will post another day about what we've been up to today) and a Happy Father's Day to all the dads out there past, present and future.
Love and light to you all x