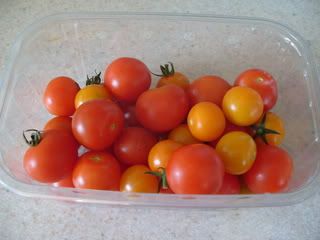 Well, as you can see it's tomato central over here at the moment. This is the third box picked over the last couple of weeks and there are still tons more on the plants. I'm not entirely certain what I'm going to do with all these little guys but I'm sure I'll think of something soon.
We are finally approaching my favourite season :) Autumn, a time of harvest and sustenance, colour and the herald of a slower pace. As the nights draw in and get cooler, what is better than cuddling under a blanket eating roasted chestnuts and drinking a lovely warming brew? Not a lot I would wager.
There is another reason why I love Autumn, it has always stood for me as a time of begining, like spring, only focusing on inward beginings. I find I have a great deal of motivation at this time to work introspectively, learning and discovering about myself and taking up a new skill/craft/path of learning or just coming back to something I haven't done in a while. I usually work a great deal in my BOS during these months and find that receiving knowledge, in all it's forms, is high on my list of priorities.
The new beginings have already taken effect in my life at the moment, and I have learnt much about myself in the last week alone. Writing fiction with others through roleplay has become a part of my life that I thought I had lost a long time ago, but now I have found it again; another little piece of the 'Michel' jigsaw, slotting firmly into place. It's quite amazing how much of myself I have lost track of without even realising it, particularly since having my kids, who wholeheartedly have taken absolute priority in my life.
*raises glass*
So here's to the journey of self-discovery, the journey of life.
*sips drink happily*