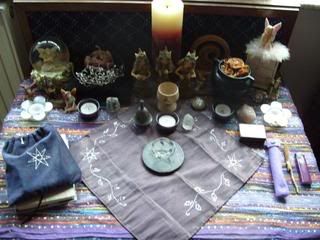 I decided it was about time that I posted a picture of my faery altar, which I have finally gotten round to revamping, as it has, rather ashamedly, been a little neglected recently. It is the peaceful space I have in my bedroom by the window (hence the darker area towards the rear) where I meditate, pray and contact both the fey and my personal guides and angels as well as my higher self. I have all my travel items on here as well as many different small fey figures. The faery chest of draws on the right and the faery glitter globe were presents from my two grandmothers many years ago. The tiara, I wore on my wedding day. I picked it because it is unstructured, wild and fun just like the fey and with it is a purple candle that a friend made for me about 8 or 9 years ago. The wooden spiral which you can just see behing the cauldron of herbs was also a gift for our wedding. I have a few crystals, shells, stones etc on here too as well as a mini ivy wand in a wand bag next to the mini besom on the right. Then on the left are my Faery Oracle cards, which I absolutely love, and a notebook for jotting down the things I am told here.
I have always had a space in my house to respect the fey, but until relatively recently this wasn't an altar as such where I would sit for meditating etc. I have always felt very connected to nature spirits and this has given me a good way to really remain so, even when I can't get out for one reason or another. The fey also bring out the child in me, inspiring me to sing and dance and create, which often means I cross stitch flower faeries from kits or things that remind me of them. I'll try to remember to take some pics of the kits I've finished already over the years.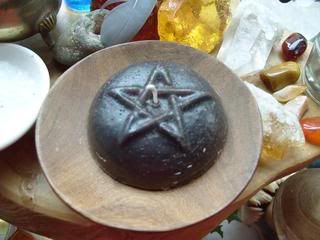 I also wanted to pop in a picture of the banishing candle I made the other day, as close to black as I could make it, which I think I did quite well considering I didn't have any black colouring to use. I'm thinking about making more of these little spell candles to sell, both plain like the one above and including herbs and crystals into the mix for specific purposes. We shall see....