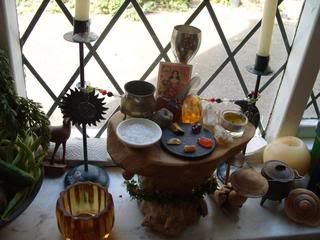 We had a pretty good Lughnasdh, mellow and relaxing. When I say
we
, I mean me and the kids... Matt was out working at the HEVY music festival on Folkestone seafront, so it was just us for the day. Having decorated my altar, rather simply on the Friday evening - I didn't really feel like going too elaborate, nor did I change much as I try to keep on the area crystals and objects that relate to the seasons anyway - we spent the day baking and gardening.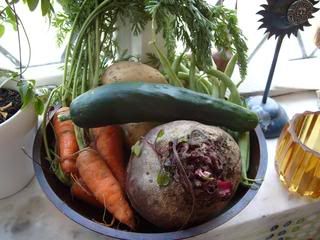 I did add a huge bowl of harvest veg, stuff from both my garden and my Grandad's allotment, which as I mentioned before has been winging it's way to me every week when my mum comes to visit. I also baked some 'Sun Rolls',, I wasn't sure how they would turn out as I hadn't used this recipe before....I have a tendancy to tweek and experiment in the kitchen, sometimes with rather dubious consequences, though I was pleasantly surprised as they looked and tasted pretty good: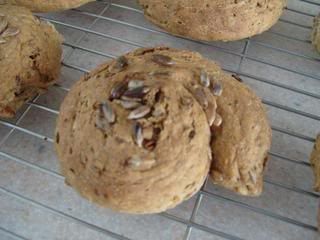 The recipe I used was a pretty basic bread recipe for granary bread, though I shaped the dough into spiral rolls instead of a loaf and added a little sugar to the mix and sunflower seeds on top before baking:
1lb 2oz granary bread flour
1oz butter
2 tsp light muscovado sugar (optional)
1 1/4 tsp salt
1 1/2 tsp fast action dried yeat
9 fl oz warm water
sunflower seeds to sprinkle on top before baking for about 30 mins (until hollow sounding) on gas mark 8. I left it for about 2 hours to proof after kneading it.
Then I decided to make a beetroot coleslaw to go with them seeing as how I had so many beetroots I didn't know what to do with them. Now this recipe I completely made up on the spur of the moment. You could say it was pretty experimental though it was actually quite tasty, but not for the faint hearted or beetroot hater as the earthy flavour of the purple veg is pretty strong. My fingers did, however, turn a lovely shade of pinky/purple because I had to hand grate the beetroot, lol:

1 medium - large beetroot (grated)
4 small carrots (grated)
2 small apples (grated)
3 small / 1 large spring onion, finely chopped
1 tbsp oil (I used walnut oil as it was all I had)
All in all it was a good day, I hope you all had a happy and blessed first harvest too x