Happy second harvest to you all, I hope that the full blessings of such a wonderful time of gain are flowing into your lives right now. I think that, especially with Samhain fast approaching, Mabon does get put on the back burner a little at times. This year I made a special effort to really connect with the season by going on a walk and scavenging objects. I had a really great time and found myself blessed with loads of natural harvest materials all that had been discarded onto the floor.
At one point I was a little disappointed thinking I wouldn't be able to get any conkers, despite the mass of trees. They had all been long since raided and believe me I searched. In the end I gave up and said a little mental prayer by a particularly large tree to find some further down on the walk. Doubling back to go home I passed the same tree I had prayed at and lo and behold there was, and I'm not joking here,
a tidy pile
of conkers at the base of the tree - I couldn't believe it.
All in all it was a lovely walk through the parks and a little wooded area. I'm just sorry I forgot to take my camera in my rush to leave the house this morning, so I've decided to rewalk it another day and take some pictures to share later too.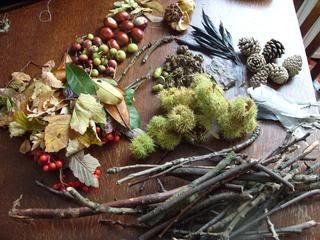 As you can see I brought home a massive collection of items, I tried to get something from every tree/plant/area I went through. I even found chestnuts! Which was a big surprise though they weren't really decent enough to do anything with. They reminded me of the trips we used to do every autumn as a family, out into the woods in the middle of nowhere chestnutting, and then roasting and eating all we found in the evening...yum.
Anyways, I decided to make an autumnal wreath with what I found and I'm pretty pleased with the results, particularly seeing as I hadn't made one before.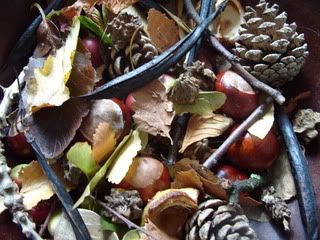 I then made a great big bowl of autumnal pot pourri for the lounge with all the rest of the stuff, adding a few drops of sandalwood and patchouli oil to give that subtle earthy smell that I just love at this time of year.
So what have you all been up to for Mabon? Are there any autumnal activities you get up to every year to celebrate the season?... Or some new ones that have been good?