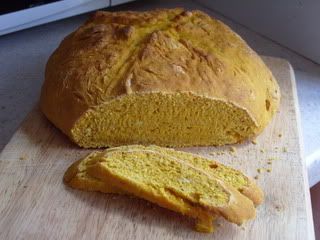 This recipe is for a really thick and sweet bread that I have found babies in particular really enjoy. It can be made with most bake-able vegetables, my favourites being butternut squash, pumpkin and sweet potato:
1 small/medium butternut squash
(or equivalent amount of other veg of choice)
300g plain flour
(to start but more to add depending on how much veg. flesh you have to use)
2 tsp baking powder
2 tbsp olive oil
65ml cold water
You can also add different herbs to taste or for magickal purposes. The beauty about this recipe is that it's quite forgiving and open to huge amounts of tweaking :)
Bake the butternut squash (or whatever you are using), leave to cool and then scoop out the flesh and mash. Add the other ingredients and knead together adding more flour to lessen the stickiness of the dough if it is needed. Sometimes the flesh you use can add a lot of extra fluid so I just add more flour to counteract this. Shape into a round loaf or rolls. Again, if your dough is quite wet still I would recommend making rolls or two smaller loaves. Score a cross or lines into the top of the loaf and bake on gas mark 6 for 30 - 35 mins or until hollow sounding.
Enjoy x