I seem to say this all the time but December is a crazy busy time for us, more so this year I think than any other as I have quite a bit of 'me time' too when mum is coming to babysit the kids so I can go out and do non-child related things! It's Beths birthday on the 19th, which is fast approaching and she will be 5 this year! I just can't believe how the time has flown by!
A few days later of course it's Yule, which is when I tend to decorate my house and I make wish stars for the tree which I'll blog about a bit nearer the time :) Then it's Christmas, and this year I have my mum, dad and brother coming over for lunch... it'll be the first Christmas in years that I have actually had dinner with them so I'm really looking forward to it.
The good news is there's plenty to keep me busy so the cold and dark winter days fly by, though I still have a really hard time getting up in the mornings.... I'm not a morning person at the best of times, and when I'm all warm and cozy in bed and it's all dark and cold outside it makes it even harder :( That said, I do actually really like this season and the anticipation of the bursting of new life in spring that comes with every passing day.
So I finally dug out my ongoing project yesterday.... the advent calender. This'll be the third year I have been making it, and I'm determined to have it finished by the end of the month. It has been a mammoth project, particularly seeing as how I haven't had a huge amount of time to spend on it and I really can't abide doing Christmas related activities at any other time of the year:
The first year was taken up making the base, stitching on the green felt pockets and cross stitching the gold numbers too. The second year I began making the pictures for each day: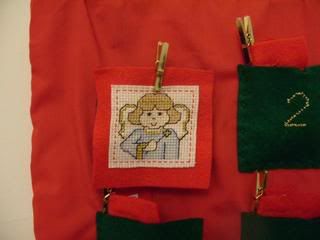 They are all cross stitched and attatched to a piece of red felt to be pinned over the numbered day as we arrive there. I managed to do all but 8 of them last year so that is my job this year... to do the final 8 pictures for the last few days on the calender. Each picture is completely different and include cartoon animals, carol singers, angels, faeries, santas, reindeer and snowmen stylised the same as the one shown above so they all match each other.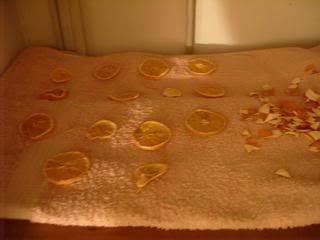 My other preparations so far also include the drying of oranges. I like to make dried orange slices to hang on the tree as sun symbol decorations and they look really pretty when the lights of the tree shine through the slightly transparent dried fruit flesh. I also dried a pile of cut orange peel for use in another seasonal pot pourri or table decoration later on in the month. I'm not sure which yet.
*****
Oooooh, and I weighed myself today.... I've lost 6lb! over 2 weeks, that's 3lb a week which is bang on target and quite surprising seeing as how I haven't been doing the exercise I should be because I've been a feeling a little sqwiffy... so far so good :)