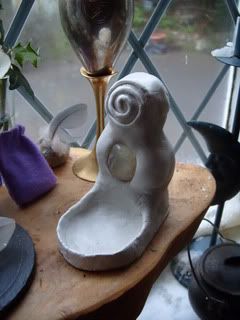 It cannot have escaped your notice, my witchy friends, that it was the full moon last night but what many of you may not have known is that yesterday was also the festival of the Welsh Goddess Arianrhod, who has recently sort of become my patron Goddess. Now, I have always steered clear of subscribing to a main pantheon, being eclectic and connecting with the deities I have been called to for different works, excepting the Hindu Goddess Kali who guided me through my 'early years' in the craft, but even that was a temporary partnership.
Anywhooo, having finally accepted this calling I decided that last night would be the perfect time to connect with her. I felt the urge to get out the clay and create something and this is what I made. As an artist I'm usually pretty abstract, creating loose and fluid forms relating to the energy I connect with, simple, beautiful and usually naturally curvaceous. All of my work, including my paintings tend to subscribe to this. It is a Goddess representation with a shallow integrated offering bowl at the base, a large inset moonstone and spiral detail above. The only wonder I have now for when it dries fully is whether to paint all or part of it, maybe just the spiral (?), in silver. We shall see.
*****
It is also worth noting that there is a second full moon on the 31st December. It is, of course special enough to work with the power of a blue moon when it comes around, but what a way to ring in the New Year! I hope this is a powerful herald of good things for 2010 after so many of those I know have had such a tumultuous and difficult year. It seems that 2009 has marked the end and new beginnings of many cycles that certainly in my experience have been both unavoidable and 'meant to be'. The Wheel has been turning, milestones have been reached and fate has definitely had a large hand to play in my life and the lives of those around me this year.