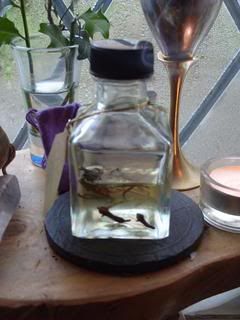 1 tsp fresh or dried rosemary
1 tsp salt crystals
3 whole cloves
50 ml carrier oil (such as sweet almond)
Place all the ingredients in a clean jar or container and mix with intent. Leave to infuse in a light, preferably sunny spot for
at least
nine days. Strain into a clean glass bottle, label and date.
Use this oil to seal around your doors, windows and any passages to the outside from you house such as drains etc once you have cleansed your space.
I like to leave herbs and/or crystals in my readied oils also so I have added the three cloves and a small dried sprig of rosemary to the bottle, but this isn't necessary.