A very blessed Solstice to all of you whatever hemisphere you live in :)
For us, it's Yule, so here are a few pictures and ideas for celebrating the Winter Solstice. After the hectic throng of Beth's birthday I have a day to relax and make last minute preparations for Yule. We decorate the house and tree around now, waiting until after the 19th so Beth can have birthday decorations up. Putting up the decorations, for me, always heralds the start of the celebrations and really gets me into the festive mood.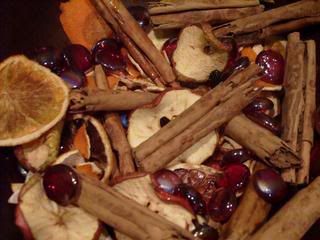 I'm a big fan of making pot pourri and using it as a table decoration, I tend to make different ones throughout the year with natural objects, herbs and scents for the season. For the spicey smells one of my favourites is the winter one, packed with cinnamon, oranges, apples as well as pine, orange and sandalwood oils it smells rich and delicious. I added a few red glass nuggets for decoration too, and they look lovely when they reflect the light from the candles I use in the mix.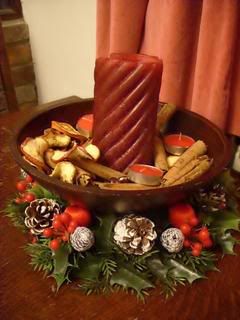 Sat on a fake wreath I acquired from my nan's decorations when she passed away we have our table centrepiece with a big red cranberry scented pillar candle in the middle. Yum!
The orange slices I have been drying for the last couple of weeks are ready and threaded up with some orange embroidery thread, ready to hang on the tree. They make beautiful natural decorations as do bundles of cinnamon sticks wrapped with red ribbon. I break the sticks in half and then use three sticks in a bundle, a pack made about 10 decorations I think. Cinnamon is wonderful for attracting prosperity and abundance into the home, and the smell always reminds me of Yule and snug winter nights curled up in the warmth at home.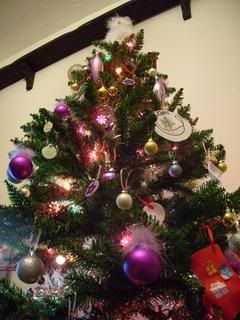 Here's our tree, as you can see I like trees with a mish mash of colours and decorations on them, there's no rhyme or reason to it, and I've never been one for meticulously planned/themed trees. I prefer multi-coloured lights and homemade decorations, some that I've made over the years, and others that Beth has made, really make it all the more special to our family ane 'homey' :)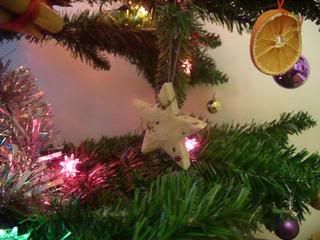 I also made some herbal decorations out of salt dough and a mix of herbs as I detailed in one of my
earlier posts in the year
. I used mistletoe, juniper berries and cinnamon to encourage love, health and prosperity into the house cut into powerful stars. I like to call these wish stars as I fill them with wishes for both the Solstice and the coming New Year. I then hang them out in the garden for the New Year to dcompose and return them to the Earth and release their power. With older children you can give them a star of their own to hold and make a wish on before hanging it on the tree, which is a simple way to introduce kids indirectly to the use of seasonal magick... and who doesn't like to make wishes?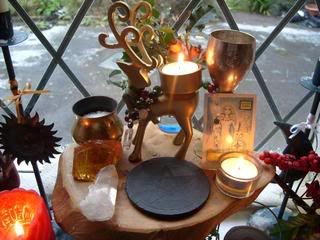 And here's my altar (a close up above and a wider picture below), the golden reindeer (which personally I think looks more like a stag, specifically the stag in my cross stitch
pictured here
- which is really why I brought it) is a new addition to my decorations this year. Wrapped around it's neck and body is a string of prayer beads I made the other day too. Originally I planned to make it in white, red and black for the triple goddess with two clear quarts points, one on either end. As I was making it however, I ended up adding some off white and dark green beads too, spaced with small hematites and little silver spacers so by the end it had a distinctly seasonal feel to it. I guess that just shows how connected I am to the season at the moment :) I love prayer beads, I used to have a proper rosary that I bought in Paris when me and my mum went there for a weekend when I was about 13. I'm not sure what happened to it, but I realised I really did miss the aid of the beads, they're so handy for chants, spell craft and prayer and ideal for taking around with you daily or if you're going away for a few days and can't/don't want to take a full travel altar kit with you... after all it's not always that practical.
The pink tealight holder may look a little out of place, but Beth made it and it is her candle which she like to keep here with my altar to light up and in the small linen bag on the left are the objects to my divinatory set, barring the casting cloth which I'm still stitching. I will reveal them neare to or just into the new year, as I intend to use the power of the blue moon to charge and bless the set.


Usually, though I didn't do it this year because I forgot, I like to buy a chocolate Yule log too and do a little blessing with this. It's particularly good and sneaky for blessing any visitors you may have at this time too. I place in the log a gold birthday candle for each member of the household and one extra to represent any visitors. Light each candle and bless the Yule log to bring peace, happiness and love (or whatever you wish for the season) to those within your household and visitors to your home. Once the candles have burned down, give each member a slice of the log to eat and share it with your visitors remembering to leave a piece on your altar as an offering to the spirits of the home and hearth who help to bring peace, love and happiness into your daily lives.


Finally I remembered to collect up an nice jug full of snow and bring it inside. Snow makes excellent ritual water, as does rain. We haven't had much snow here, unlike some places over the last few days, but there was enough to collect a decent amount. Again, this is in preparation for the blue moon, as I will take the opportunity to create a new batch of extra potent moon water, I think snow water is ideal for this task thanks to it being collected from directly from nature itself and it's beautiful white colour reflective and beautiful, just like the moon herself.


Phew! I think that's about it from me for now. Again I hope you have all had a very blessed Solstice wherever you are and that the light and love of the Lord and Lady shine down on you.