The 20th of January brought along my little man's first birthday. Unfortunately I don't have a nice picture of him with his cake as he insisted on screaming through the event and writhing in his chair while Beth happily sat there, blew out the candle and devoured most of it. He was more content munching on this plain cracker, but hey ho... it was his birthday after all. Really the only reason we had a little party for Ethan was because of Beth and her insistance, Gods know he had no idea what was going on.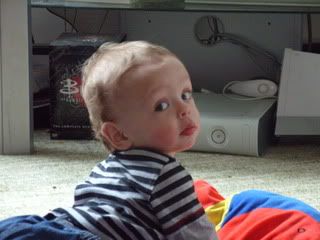 And here he is again playing on the floor. He has a developmental check in a couple of weeks which I'm actually quit worried about as he seems to be a bit of a late bloomer :s It doesn't bother me, but I dread the health visitor criticising my abilities as a mum or making out there's something wrong with my boy. I know my son just as I know my daughter and I'm certain there is nothing wrong, I hate to say it but he truely is just lazy. For example, he
can
sit up on his own, but he doesn't do it, instead he flings himself backwards on purpose to lay down. He's not crawling properly yet but does push himself around backwards and he won't even contemplate attempting to stand. Beth was walking around by now like a pro. I don't know, I'm told this can happen with boys and especially with second children and it is true that even when I tell her not to Beth does do a lot of stuff for him so he hasn't had to really try.
The good news is, however, that aside from when he's grumpy from teething he is happy, alert and very chatty mimicking the sounds I make and trying to copy some simple words when I talk to him. I think it's just me over worrying again as I've been a little down recently, stewing on the fact that I don't feel like I'm doing very well, even though I know in my heart I'm doing everything I can. It's just so damn hard day in day out on your own... I am in sore and desperate need for my holiday I think, a little time away for myself and my sanity is what I need for my body, mind and soul... Roll on February!