Once again belated well wishes to you all.
We took a last minute trip for New Year to see our family and though we got back on Saturday once again I've had a lot on and I've only just had the chance to wish you all a Happy New Year. All in all I did little for the blue moon in the end, but I did what I had planned charging my water and finishing my divination set. I also did a little card spread with my oracle cards which was full of good omens for 2010, the most potent happiness card I have cropping up at the end. This card and it's symbolism ALWAYS comes into play just before big milestones or turning points in my life, but then I guess I already knew that because I've been harping on about the New Year for bloody ages, lol.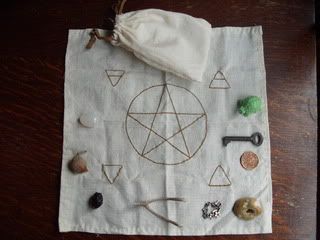 I probably should have ironed the casting cloth before photographing it :s but you get the idea... It's embroidered with a pentacle and the alchemical symbols for the elements. At the top in a matching drawstring bag with suede pulls and my 9 items are placed on the cloth. They are; a green plastic tortoise toy, an old key, a rather battered penny, a hag stone, a silver ivy/flower/butterfly decoration, a wishbone, a dried rosehip from my garden, an acorn in it's cup and a snow quartz. Each item has a personal meaning to me and I received instructions on how to best use the set through dreams when I began actively connecting with Arianrhod a little while ago... it will be very interesting to see the kind of results I get from using the set for divining... I'll keep you all posted when I try it out, I'm just waiting for the right time now... it's close but not quite yet.