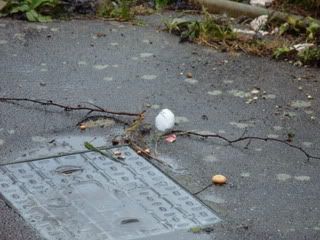 Finally we have rain, lots and lots of rain, and believe me I have never been so glad to see it. It has done what nothing else much has managed these last few days and cheered me up. Above you will see what is left of Beth's snowman Mr Chilly, she was rather sad to see him go but I must admit it brought a smile to my face to open the front door and be greeted by the only bit of remaining snow visible. Now you may well be calling me a 'snow scrooge' at this point, and normally I would agree but I really have had my fill of the snow for now... the two bad lots to hit Kent have been strategically placed over both of my planned breaks and have left us isolated from my family and partner over some very trying and important events.
I didn't get my proper weekend away over saturday, sunday and monday because of the snow :( which put me into a bad mood from the off. We did go to Maidstone and I still got a good day or so without the children but I was so looking forward to my surprise. By the time we got back on Monday my bad mood had settled in and nothing was going to change it, I just couldn't shake it, especially when I was told that my birthday would be pretty pants too (and that is when psychic abilities really suck, when they tell you things to give you fair warning but it kinda puts a whole dampner into an event). Try as I might I did approach the day in an attempt to enjoy it, I hoped for the best and didn't voice my knowledge in the futile attempt that it was faulty or not really going to be that bad but lo and behold my plans for the evening were once again scuppered by forces outside of my control. Apparently in order to truely embrace the new life, love and happiness that is coming my way I need to be tested and purified and this was my last big test. So I spent my birthday, which was yesterday alone... it wasn't much fun but hey, that's life and thankfully I had plenty of love and birthday wishes from my friends and family to keep me going.
Then this morning came the rain and I smiled. The snow and ice has gone with it and I couldn't be happier that it has signalled to me an end to this thoroughly testing time that has been this last lunar month.
My surprise weekend was rebooked for February, the good news is that we will get to go away from Saturday 13th until Wednesday the 17th so it'll be more like a proper holiday. Plus it will now be a joint Christmas, birthday and Valentine's gift so I am now looking forward to it once again and am hoping that the old adage that
good things come to those that wait
, proves to be very true ;)
*****
I'm also going to be making more of an effort to keep caught up with my blog reading. Sorry I haven't been visiting you all over the last little while, I am going to try a lot harder this year. I think I may have to set aside a day or two a week for catching up with everyone, so apologies. Feel free to chide me for my absence and be forewarned that I will be hopping on my broom and whizzing over for visits very soon. If for some reason I'm not following your blog, and sometimes a few manage to slip the net especially recently, please do leave a link in the comments section below and I will fly on over to be nosey. Blessings x