Following the rather rubbishness that was my birthday, I decided a little retail therapy was in order with my birthday money. Now I'm not one for wandering round the shops, clothes shopping or generally browsing (unless we are talking about an inexhaustable amount of pagan and/or alternative shops), in fact it's safe to say I detest shopping, especially for clothes. Luckily I knew exactly what I wanted to buy with some of my money and it's something I've had my eye on for a while in a local crystal shop down here. With the kids off with their father for the day and my time my own I wandered in to find the item.
I had seen it a couple of weeks ago but didn't have the money to buy it. I had tried to put it to the back of my mind, thinking that if it was still there when I had the money it was meant to be mine, then as always with the 'spiritual' items I'm supposed to have I began feeling that indescribable pull to return and buy it. 'It' was this beautiful giant cast iron cauldron: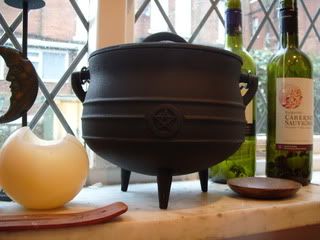 As you can see it's massive and extremely heavy, I've been after a large one for ages as I have a smaller one that I use all the time for burning spell papers in etc, it has been adequate, but I really need a bigger one... they cost a small fortune, however, so imagine my surprise when I find this one in a local shop for just £29.99! Needless to say, it is now mine :)
Before I bought it I felt another pull in the shop but couldn't distinguish what I was meant to be looking for so I started searching, following the tug on my heart until I found this in the counter display: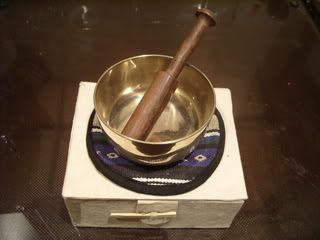 It is a Tibetan Singing Bowl, and just the other week I had been telling my partner how I'd been looking for the 'right one' for ages. I had wanted to buy a bell or something for space clearing and meditation but while I was healing last year felt a singing bowl would be better and very good for the energy healing work I do. Again though as I looked into purchasing one I found they were expensive and it never felt quite right. So here I found this one which is of a medium size with a cushion and it's box marked up at around £20. Knowing that this is 'the one' I decided to buy it too, only to find myself being given a further 20% off because of a slight bit of damage on the box, only further proving to me that it was meant to be.
This all worked to more than make up for my birthday blues. I usually find that the items I am supposed to have for my practice find me like this, I get a pull towards them that just means I can't not get them. They turn up in the most random of places when I'm not actively looking for them, but they just feel right... you know?