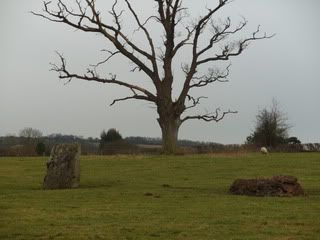 Shortly after our visit to the Tor we were having a chat with the people we were staying with and talking about the amazing energy experiences we had been having for the last few days. They then told us about a little known site near Bristol that was well worth a visit;
Stanton Drew Stone Circles
.
Set aback in a large field it is accessed by a little gate with an honesty box for the £1 donation asked for entrance. Sharing the field with a few sheep the stones are obviously ancient and span over a pretty large area. The best thing was the place was deserted apart from a few other visitors who were scattered over the site, you could really take your time and explore, touch the stones and feel their energy and that of the land.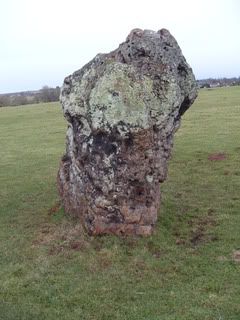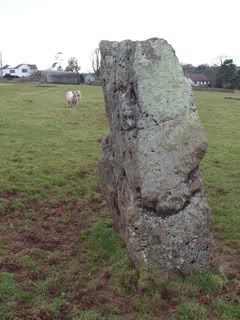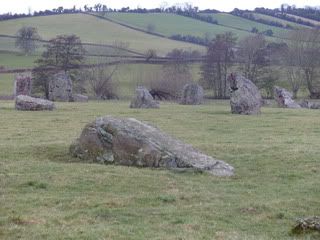 I was immediately drawn to the Northeast Circle (there's a picture of the layout of the stones at the above link in the first paragraph, and photographed in the above picture), the energy was far more concentrated here and it was obvious as we explored that people come to this particular area to do rites and workings.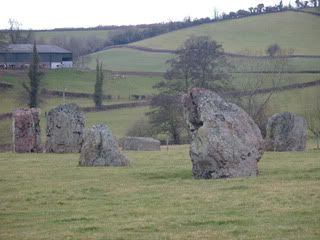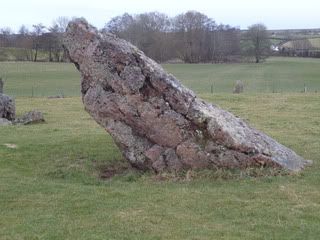 This one (above) really grabbed my attention in the North east Circle, and when I investigated I found small crystals, herbs and candle remnants placed within the crevaces of the stone.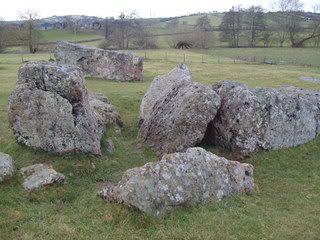 This cluster also seemed important, drawing my attention and I felt a fair bit of power eminating from the 'valley' running down the centre of the cluster, pictured above.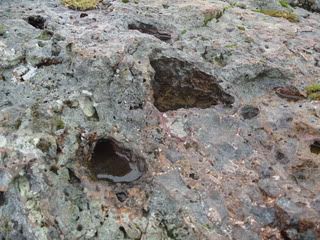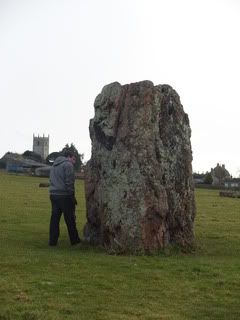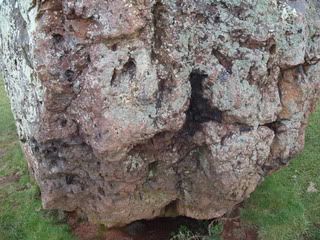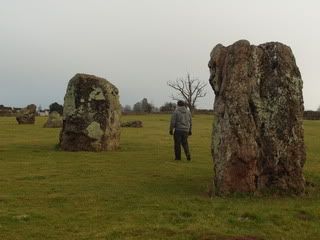 We stayed for quite a while looking around this very peaceful site and would have stayed longer had it not been so very cold that day, it would have been very easy to spend a good few hours there just sitting, connecting with the land and taking some time for quiet reflection. Indeed the people who told us about the place said that when they stumbled upon it they spent the best part of 2 hours there, who knows, with any luck if we return one day it will be warmer and more pleasant for spending a greater amount of time there.
The evening after our travels here, which was the last place on our itinery that we did visit (we had planned to attempt to find Gog and Magog before we left the next day but lets just say that neither of us are morning people) I had a peculiar experience for an hour in the flat, my third eye was tingling like crazy and I was completely spaced for a good hour. In that time I decided to read my Faery Oracle Cards, which gave me a wonderful reading relating to the whole experience of the holiday, what I had and could draw from it and where it would lead me soon enough. Sure as anything it's advice and predictions have been coming true over these last few days as things have been falling into place for me once again.
My man told me before we went away that once I really reconnected and 'found my mojo again' the things that had been worrying me and getting to me wouldn't seem so bad. Of course, I knew this to be true, it always is, but sometimes when you lose sight of the bigger picture and your place in it darkness can settle in your heart. Thanks to our trip to Glastonbury, it's community and energy, the sites we visited and felt and of course the time we spent together I can now truely say that I feel balanced again. Reading back over my last pre-holiday posts I can see them and how I was feeling for what they really were, I can accept it, push it to one side and confidently get on with living instead of fretting.