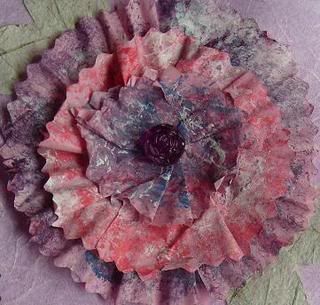 Sunday was Mother's Day, and having gotten back that morning from visiting my sicky man I was at a bit of a loss as to what to do with myself. Normally I spend my Sundays with him while the kids are out with their dad for the day. Well the kids were out, and obviously he was still at home recovering from a nasty tummy virus that struck at the end of last week. Not nice at the best of times, but especially not nice when it's your birthday, hence my weekend stop over visit.
So what was I going to do with myself I wondered? There were a few options but in the end I decided to take a walk down to the beach and have a little scavenge. I've been meaning to do this for a few weeks now, but it's impossible with Ethan, as the beach I wanted to go to is a pebble one and he has to travel in his buggy thanks to his lack of a will to learn to walk :s I also knew I wanted to sit and have a meditation session down there... again not practical with a kiddy around. So off I trotted, I realised once I was halfway there that I forgot my camera, else there would have been some pics too.
It was warm and pleasant with the sun peeking out every now and again to glisten golden light over the rather calm sea. Once I got down there I found a big rock and sat with the sea lapping around my feet. It was beautiful and very calming... it's just a shame I don't get the chance to do it more often as I know if I ever move away from the sea I will really miss being so close by.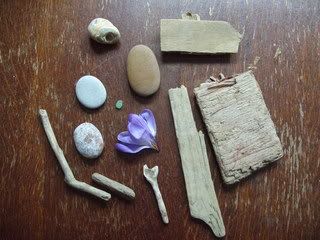 Sitting there on that rock, wishing I had something to hold onto as I meditated a hag stone caught my eye. I love finding hag stones, they're very powerful goddess symbols, gifts from the Lady herself and I usually find one whenever I go to the beach for a working. Picking it up I used it as a meditation aid, tracing the hole with my thumb and feeling my energy pour into the worn stone. I new I would find the other things I was hoping to discover while I was here. Sure enough, a few feet up the beach from where I found the stone were these little beauties, the pebbles are going to be for making talismans, I already know what they will have on them and I'll be sure to take photos of them when they're finished. The long thin piece of driftwood I'm going to use for a runic talisman, while the other two pieces will be drawn/painted on... though I'm not sure what yet.
Wandering back up the path home I then found the rather sorry looking purple crocus that had been picked and dumped on the concrete. I decided to bring it home and press it so that it would have a new home in my BOS... it will look perfect on my Faery Rune page.
When the kids finally got home I had a very welcome hug from my little girl, a bunch of flowers and a bag of handmade pressies that she had made with nanny while I was away. There was a lovely card, a big paper sash with 'World's Best Mum' on it (hand coloured by Beth) and a necklace that they had made by raiding my jewellery making stuff, lol.... happy days :)
A belated Happy Mother's Day to all you mummies out there, I hope your days were as good as mine.