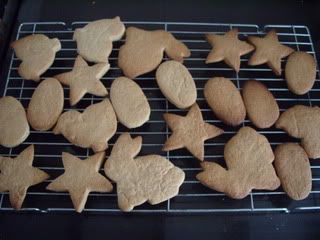 We finally got around to making the spring themed biscuits I've been meaning to bake since Ostara, lol. It is what we did this morning after a bit of a lay in, a leisurely breakfast and some playtime with Ethan. Once the little man was having a rest before lunch me and Beth set to work. This is the recipe we used:
2 oz butter
2 oz sugar (I used light brown soft sugar)
1 1/2 tbsp golden syrup
6 oz self raising flour
1 tsp ground ginger
1 tsp mixed spice (you could just add extra ginger though)
milk (you need very little of this, just add it a tbsp at a time to bind your mixture into a dough to roll out)
Cream together the butter and sugar then add the syrup, flour, spices and milk to create a dough. Roll out, cut into shapes and bake at gas mark 4 for about 5-10 mins until they are slightly browned (just be careful as they can turn from brown to black really quickly, lol)
Of the batch we made I then separated a few for Beth to decorate this afternoon with Rebecah (her lion helper):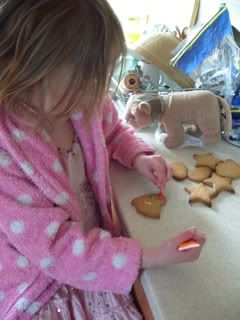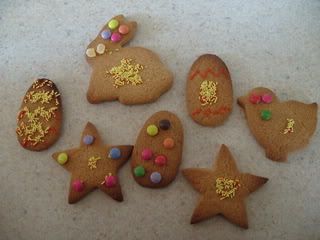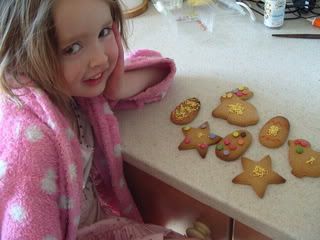 And yes, she is wearing a dressing gown over her outfit... why? you may well ask... well she seems to have a thing for her dressing gown at the moment, it goes on on top of everything she wears!
Last night, as well as continuing my cross stitching project I also made these bracelets. The top four are elemental ones and the bottom one is a lunar/goddess one with a silver spiral charm that you can't really see very well in the picture.
Hope you all have a good evening with the new moon. Wishing you all a very happy and productive month to come x