So far the Easter Holidays have been pretty terrible here as you are all well aware. With the kids being ill and me not feeling all that great it's been a rocky week which all seemed to come to a head over the weekend when I felt very down and in desperate need of a big hug from my man who I've barely seen over the last few weeks because of work :(
The good news is I was feeling quite a bit better this morning having found a great deal of peace and strength through my meditation last night. Laying in bed this morning... still not at a stage where I really wanted to get up but wanting to make the best of the day I decided there were two things we were going to do today.
The first was go and buy some flower seeds to grow. Bethany asked me yesterday if we could do this as she wanted to grow her very own plants being a peeved that I have so many potted herbs that aren't quite as pretty as she would like. So off we went to buy some seeds... of course we had to get the ones that she insisted on but she picked some rather lovely mixed Nasturtium which we planted up after lunch when the little man was in bed. There are four pots, two are mine and two are Beths, and in true Beth fashion she wants us to have a contest to see whose grow the best... lets just hope for my sake hers do, lol.
The second thing I decided on was to get a scrapbook to do with the kids as a childrens project and to fill up with seasonal pictures and themes as I gradually begin to introduce them to the wheel of the year. I knew it would be something she would enjoy as she loves to create and make. I did try this a week ago, I bought her a scrapbook, explained what it was for and made the mistake of letting her just use it. Needless to say she was thrilled and had the thing filled with random scribblings and nothing in particular within a couple of hours. So with this one I again explained what it was for and told her that I would be keeping hold of it to fill up a page or two at a time with different themes. She wasn't too happy but after an initial upset we sat down and did some of it for an hour or so. By the end we had successfully filled three pages and I think she gets the idea of what the book is for.... ish.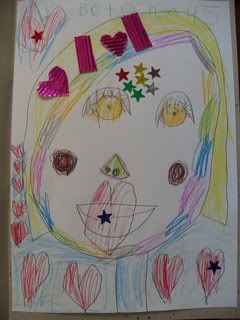 The first page has a lovely picture, that Beth spent a lot of time doing this morning, of herself. I was trying to explain to her that we put special things and pictures in that we work hard doing and really want to keep safe not just everything we draw... if we did that in our house we'd need a new book everyday :s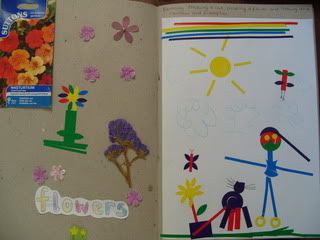 The next couple of pages we went for a flowers theme, seeing as how we were planting flower seeds today. As well as the packet from the seeds that we planted Beth stuck in some fabric flowers, a pressed flower and made some pictures with a set of sticky coloured shapes I had. The picture on the right is of Bethany stroking a cat, picking a flower and looking at a rainbow and butterflies, lol. She kind of got the idea eventually though she has since brought through to me a tonne of drawings with the inevitable question of "can we put this into the scrapbook too", lol.
She's also not too keen on the idea of me and Ethan putting things into it either as she wants it to be her book, but she'll just have to get used to that as the whole idea is that this is a family project that we can all contribute towards and I can use to help to get the kids involved with the seasons and themes of the year.
All in all a productive day so far, Ethan has been less screechy too and happy for the first time in a week to crawl around and play instead of being attached to my hip wanting to cuddle, which has been a welcome relief and left me able to get on with bits around the house without the feeling of being stabbed in the head because he is screaming so loudly at me all the time.