Whooo, this is one of my favourite festivals because it's so energetic, sexy and the real start of the Faery Magick Season :) I'm still suffering with my sinus' and therefore my headaches and ear problems but that hasn't stopped me from cracking on with a good cleanup of the house and a few Beltane activities. Of course I'm still having to be careful as not to incapacitate myself and by the later part of the evening I've been having a lot of pressure in my head and eyes with a few visual problems but this tends to happen when I'm tired and/or have been a little guilty of overdoing it. I've also been having quite a bit of trouble with my third eye... I just can't shut it down properly which is only exacerbating my now annoying head problems *sigh*
But onto more fun things.... A lot of this I'll post about in more detail when I have pictures to share but I thought I'd just mention them now, otherwise they'll be there cluttering up my mind for days! I've been making a faery door for my altar out of recycled card and bits from my craft box, a rose petal filled funky flower for my nature bowl, a lavender sleep pillow for my man as a little Beltane gift since I know he has quite a bit of trouble sleeping at the moment and I've got a couple of paintings on the go. The first is an abstract piece that I will share when I've finished it. It is called 'Incognito' and sort of named itself before I even started painting it.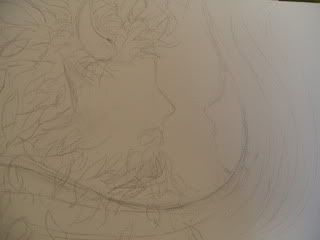 This is the second one I'm working on, which I blogged about on the
P.A.N blog
the other day. It's called 'Balance' and is my view of my patrons Pan and Arianrhod. I wrote a bit more about it over on the other blog so if you're interested please do check it out... I will of course be adding updates and/or a picture of the finished piece when it is complete.
Today I have been cleaning some more (it took me an hour and a half yesterday to do the kids bedroom... not something I want to repeat again any time soon) and baking which has been wonderfully grounding for my third eye troubles. I promised Beth I would make chocolate cupcakes with her to take to her dad's house tomorrow when she goes to see him, and I wanted to make some Bara Brith, which is this scrumptious Welsh tea bread. When I've got a picture of the finished article I'll post the recipe. It's one of my favourite things to make as it's so yummy and super easy. It's one of those things that always speaks to me of the bounty of mother earth and the spring/summer festivals.
I hope you have all had/are having a fantastic bank holiday weekend and very blessed Beltane. I'm crossing my fingers for some improved weather for our Hastings trip tomorrow.... I love the rain, but lets face it, I want to see the Jack in the Green parade and that would be better with some sunshine... but we'll see what tomorrow brings I guess.