Here's the latest of my 'Balance' painting, as you can see I started building up the first paint layers on the faces and Arianrhod's cloak. The 'leafy' hair of Pan will come further forward then the white areas and over the chin in a beard as well as overlapping in single bits over her cloak. I'm pretty pleased with it so far.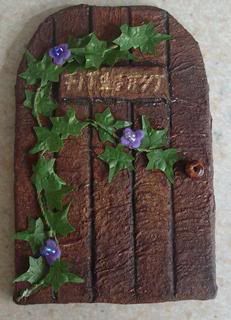 This is my fairy door, made out of recycled cardboard and odds and sods from my craft box. Painted in acryllics it has a wooden bead door knob, some of the wired craft ivy I had lying around and three little felt and bead flowers. The sign on the door says WELCOME in gold faery runes, though you can't see it all that well in this picture. I'm really pleased with it and I'm hoping to make more to sell in the near future :)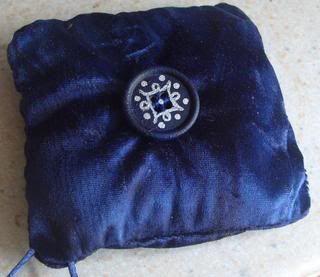 Finally I thought I'd share the lavender sleep pillow I made too. It has a little loop for hanging and is that pretty mottled blue velvet I bought from Glastonbury. It's filled with fluffy stuff and lavender (though I probably could have done with adding a little more padding to it) and has a big old painted button on the front.
So it's been a productive week thus far.. my sinuses are still playing up, but at least I've been able to get stuff done as well as my headache hasn't been too bad :)