For the sabbats I like to do something for myself whether it be buy or make myself a gift or do something as a treat. For Beltane I decided to buy myself a new leather BOS, specifically the one I've had my eye on for months but haven't been able to afford... well not with a clear conscience anyways. Finally a few weeks ago I realise this was a possibility now and I ordered it and YAY! It came this morning.
I bought it from my favourite journal makers who hand make the most beautiful books and sell them on eBay. They are
Earthworks Journals
and I would recommend them to anyone whose wants to buy a really beautiful new journal. They make permanently bound and binder style books full of fantastic quality recycled paper (that can take proper ink without bleeding) and they have loads of different designs and sizes to choose from and will even try to design something specific for you. Anywho... enough of the writing, I'll let the pictures speak for themselves: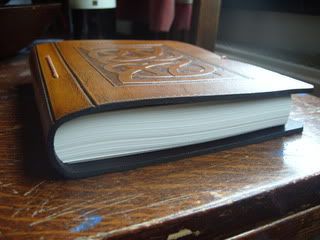 As you can see, I chose a binder style book with a large celtic knotwork design on the front. I've had a permanently bound book from them before a few years ago and while lovely I have learnt that I have a need to be able to remove pages and move them around depending on my mood or if I change my mind about how I want all my stuff organised, lol. This one is A5 in size, which is just right for me... they make larger and smaller ones too. I was really torn between this one and their tree of life design but this one won out in the end and I'm just sooo pleased with it :) well worth the money and the wait! Now to crack on, get creative and fill it!