So here I am again, attempting to catch up with my blogging as it has unfortunately found its way to the bottom of my to-do list. I had blogger open all day yesterday and I was willing myself to write but nothing came out... I was too enthralled by a conversation I was having on msn and the other ideas and inspirations that were whirling around in my mind. I blame no-one but myself, of course, but I am taking the time today to write at least one post to keep you all up to date on what has been going on here.
First of all I want to say a very big thank you to the lovely Melissa over at
A Witch Trying
for giving me a beautiful blogger award. I know it has taken me a fair while to respond and I apologize for that, it really did make my day to receive it.
As those of you who are my facebook buddies will know I dyed my hair a few days ago, opting once again for a shade of purple, this time with a built in lightener in it in the hope that it would take better to my hair. As you can see it worked really well and I think I will keep it like this for a while: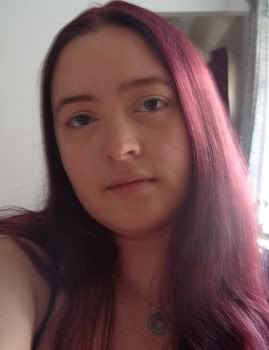 I finally managed to get hold of a small journal as a record book for my oracle cards. I like to create my own annotated books with my feelings and intuitions for my cards. I did it for my tarot years ago (it really worked well and helped me to connect more fully with the energy of each card and it's symbolism) and decided it was time to do so for my faery cards... I'll post separately about how I've been customising it though and add some pictures.
I have been writing a lot and dreaming almost constantly, new stories and scenes have been popping into my head at night and inspiring me in every sense though I have had trouble knowing where to start with them. Perhaps, if I don't get too shy over it I will share one of my less 'adult' ones with you all, but I will have to see about that once I have really worked the idea through.
I hope to begin making cards again and have been gradually formulating some new designs for the coming autumn. Since it is a time of new beginnings I hope to be selling on ebay again if nothing else in the run up to Samhain, but we shall see how things go.
And so it is nearly the end of the summer holidays... a mere couple of weeks left before Beth goes back to school, though I am less than sure where the time has gone. Ethan is in a near constant state of grumpiness at the moment, which is a trial, though I think it is frustration because he wants to do walk but still will not do it. He has been waking up at around midnight every night screaming for me to change his nappy too. I noticed this morning that he has two of his back teeth peeking through the gums so I believe this is what is also contributing to his constant mood.
So that is the long and short of what has been happening here... It has been hectic, draining and mad but certainly not bad, especially now that my strange lulling mood has disappeared and made room for some more pleasant times and the regrowth of my inspiration and creativity.