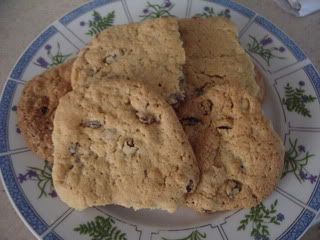 4oz plain flour
1/2 tsp bicarbonate of soda
1/4 tsp baking powder
pinch of salt
4oz butter
4oz caster sugar
3 1/2oz light brown sugar
1 egg
1/2 tsp vanilla essence
3oz oats
6oz raisins/sultanas
Cream the butter and sugar until fluffy then add the egg and vanilla. Beat thoroughly.
Mix in the flour, bicarbonate of soda, baking powder and salt until well combined.
Add the oats and raisins mixing thoroughly.
Drop heaped spoonfuls onto greased baking sheets (mixture should make around 18 - 20 cookies).
Bake in a preheated oven, gas mark 4/180C/350F for about 15 minutes until just firm at the edges.
It's very easy to over bake these cookies. They should be baked until just firm at the edges, still pale and appearing underdone in the middle.
This will keep them chewy when they cool. Enjoy